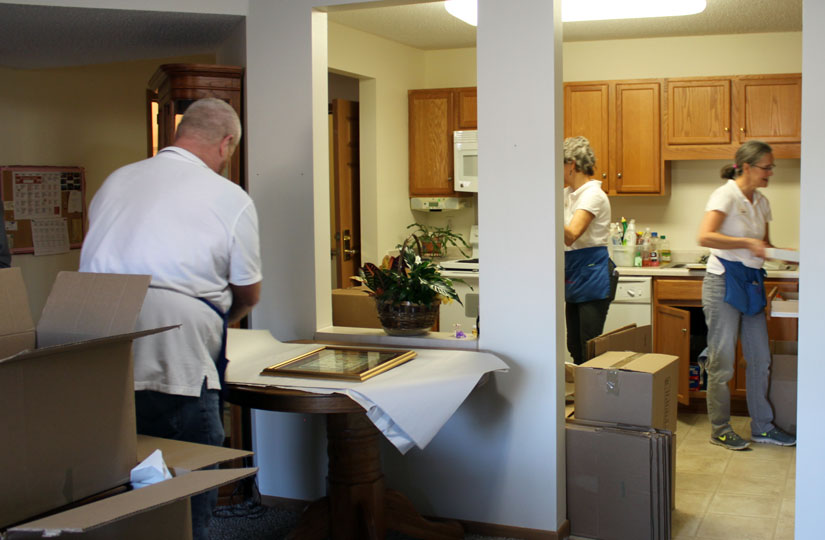 6 Benefits of Using a Senior Move Manager
Moving is a stressful ordeal, but when you are an adult child moving your senior parent from one home to another, there is an added layer of complexity. Who will lead the charge on downsizing? Who will coordinate an estate sale? Who will deal with the sale of the home?
More importantly, who will make sure that Dad and/or Mom and their lifetime of possessions are being treated with dignity?

Top Reasons to Consider a Senior Move Manager
1. Eliminates the Potential for Financial Exploitation
With baby boomers turning 65 at the rate of 10K per day, this huge population of 79 million people is going to attract a lot of people to aging services.
Rose's Daughters Senior Move Managers maintain high standards and follow a strict code of ethics. Rose's Daughters have general liability insurance, take classes in ethics and safety, and provide a signed contract to protect both the move manager and the senior's irreplaceable items like photos.
2. Downsize in an Organized and Dignified Manner
Before Senior Move Management existed, the way a senior was moved out of their home that they lived in for 30, 40 or 50 years was done very expediently. Often over a weekend, adult children would fly in and only be able to give a few days to the move and order a dumpster to be parked in the driveway. That home that took 40 or 50 years to build was downsized in 48 hours, buy adult children who hadn't lived in it for 25 years.
Rose's Daughters Senior Move Managers acknowledge the time it took to accumulate the lifetime of possessions, so they take the time to go through everything with the senior parent, whether it takes weeks or months. Even if no move is involved at all and the senior needs help downsizing clutter in their home, our move managers will do all of the same things as if they were moving.
3. Gives More Control to Seniors
Roughly 50% of seniors that move are into a congregate living community, including assisted living, independent living and memory care. Sometimes, it is a senior moving in with an adult child, or a senior apartment that's in a multi-generational building that is in the middle of town. If it's a really independent senior, sometimes it is two older women who are sisters where both have lost their husbands and have decided to move in together.
Wherever the senior is making the move to, it's important to ensure that they feel in control of the move.
4. Expert Attention to Detail
Our Senior Move Managers are accomplished adults who have found move management as a post-retirement career. With professional backgrounds including nursing, marketing and even information technology, our move managers have expert project management skills.
Our move manager will take digital photos of the entire content of the house and place them on a protective card of her website and send a link to all the family members around the country so that the family can also weigh in on what should be done, and arrange shipment or storage of goods until a decision is made. Rose's Daughters move manger will connect the family with an estate sale expert, or sometimes even conducts the estate sale themselves. We will also help with placing the home up for sale through real estate agents in their network and arrange for moving and cleaning services. Anything that is donated, the move manager ensures that the donations are documented and tax deductible.
5. Decreases Family Stress
Using Rose's Daughters Senior Move Manager help make the transition to a new home smoother for the entire family, especially the senior, as they will feel like they chose it.
By having an expert manage the move, it helps take away a lot of stress for everyone involved, help to keep families from fighting about what is best for Mom or Dad, and ensures that the best interest of the senior is being kept in focus.
6. Solves Problems You Never Anticipated
Rose's Daughters Senior Move Managers are project managing these moves daily. Rose's Daughters have all kinds of creative tools at their fingertips, things you or I would never even think of, to make the move smooth.
Source: https://www.aplaceformom.com